close
.Net Training Course with C#
Our Education Pattern meets to IT Companies Standard
Console Application Training involves with basics of C Sharp Language and object oriented concepts of Classes. Also .NET introduction with the source code compilation of MSIL (Microsoft Intermediate Language) in the presence of Just In time Compiler (JIT) and CLR services in .NET Framework. Here trainee understand the use of partial classes and Assembly description with metadata and manifest files. Explicit process of BOXING and UNBOXING in .NET data types are explained in training sessions. All OOPs concepts of how to create your own namespaces and delegates in C# .NET Language.
Our .NET education also merged with Web Designing Training with HTML and CSS using both DIV and tables. You also learn Photoshop and flash animation during Microsoft .NET course. Integration of JQUERY training helps to make more attractive presentation of your projects. We also give JavaScript training and AJAX training to increase the performance of web page. Essential Dynamic Web development topics of .NET Application like Sessions, Cookies, XML, Caching and .NET Web Services are teaches in detail at our DZONE training centre. How .NET framework use Common language Specification (CLS) and Common type System (CTS) both for VB .NET and C# and when to use web.config and global.asax in your .NET projects
Training on ADO .NET with multitier Architecture using Data Access Layer (DAL) and Business Access layer (BAL) has been explained in detail and multiple ways. Complete Microsoft SQL Server training with Stored Procedures, functions and triggers using transact SQL in training classes at our institute in JAIPUR.
Training Request
Training Highlights
Software Development / Web Hosting / Website Designing / Android Applications / Live Project Solution / better Training than any Institute
D Zone a Software Development Company Jaipur providing website projects in Asp .NET using C# and VB .NET or PHP tool with complex e-commerce custom runtime web solutions, offshore programming and outsourced web design services and development on Windows and Linux Platform. Our Developers used Microsoft Asp .NET which is the enhancement of Active Server Pages (ASP) due to rich Framework support by CLR (Common Language runtime) and advance assembly(metadata and manifest).Server side PHP script is used to developed small scale web Applications. D Zone's IT Team develop quality Dynamic Web Portal integrated with seo Services in all the various areas of Web Designing & Development with ASP .NET, PHP language,Microsoft SqlServer, MySQL,Android using Java and Eclipse tool and other related IT Server side technologies.
D Zone Company programmers deliver best Dektop and Internet application to IT Industry with timely delivery of the project by IT development team Project Development followed by latest technologies like Dotnet , PHP script with mysql or JAVA using RIA and Seo technique online and offline.
Microsoft .NET benefits over other Web development language are that it runs in .NET framework based on Common Language Runtime (CLR) giving strength to dot net technology and security at runtime to .NET Applications. Platform Independent due to MSIL and JIT compilation,and Its Common Language Specification (CLS) and Common type System(CTS) give multi language support like C# .NET and VB.NET attract web developers for .NET Solutions. web application development become much easy through .NET Framework Class Library (FCL) and multiple namespaces provided by new versions of Microsoft Visual Studio 2012.Our Training Centre improve student's skills and IT knowledge by innovative method of learning through practical and online workshop on computer instead of classroom lectures.
Advantage of Web Development with D Zone
Advance PHP, mysql, Asp .NET, Java, Android Training in Jaipur
One of our division also involve in Microsoft Asp .NET Training and Java ,advanced PHP Training and also Android Open Source and web promotion giving the exposure to youngsters in IT field.Training Program of D Zone Company is totaly based on practical aspect integrating Development Logics and advance technologies like ajax, SilverLight,Microsoft MVC .NET, Rss etc.
Asp .NET and PHP Classes are taken by our Professional Developers to give real development working environment to our students or clients.Android Development with basic building blocks and API and advance featur like bluetooth,location api and google map etc.
Some Key Features of our Specialized .NET and PHP Training are
ASP.NET / PHP Live Project Training in Jaipur By Technology Experts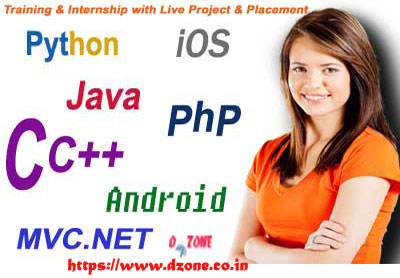 Training in Assosiation with our portal DzoneHub.com
The Project training for mca BE students is oriented towards addressing the gap in the formal training and requirement of IT industry. This training is primarily for those who have done degrees or courses (MCA , BE) but are not getting opportunity for a job in industry.
Our Asp .NET / PHP Developer level training will empower you to bridge the gap between training and industry needs.We also try to improve programming logics to dive in the long journey of IT.
We also encourage our trainee's to work on advance technologies (RIA) web 2.0 and concepts belonging to asp dot net (where JIT cretae plateform independent code MSIL) and php (Hypertext Preprocesser) Silverlight mvc .NET RIA (Rich Internet Application) in web development environment. Our specialization in .NET web plateform means asp help students to present them as a proficient .NET Developer in software platform.
we also help students to get Microsoft Certification like MCTS , MCP , MCPD
So, If you are willing to learn practically from professional programmer, have basic understanding of subject and willing to live the comfort of a good training institute for a bright future, you have come to right place.
Search Engine Optimization-SEO Training & Business Promotion
D Zone at jaipur gives the training of Search Engine Optimization by Professionals to make students experts in SEO. DZone Provide SEO marketing on Dynamic .NET and PHP interactive solutions through website design and web application content writing link submission directory submission and development that enable customers to grow business on low investment and easy finance. We use web as a business tool to promote business by website promotion and build your online communication .We also provide corporate training to your employees to work in a better way on Business solutions.Our Asp Dotnet and Php Web Applications meets international Standards. Our valuable services give us a brand name in jaipur.Now through SEO course we teach our students/Trainees that how to get top exposure and visibility on the various search engines.After SEO Training you will be well on your way to building a successful career.
What We Offer
Major and Minor Projects for Computer Science and IT students B.tech,BCA,MCA,M.Tech,Msc and Final year students,six month and 45 days software industrial project training in IT Companies.
Business Solution for Corporate industries on Web Technology like Asp .NET and ADO .NET tools PHP script java and PHP Zend framework.Training on Android Platform,Business to Business Solutions and Services like SEO on multiple Search engine.
Training on Advance technologies like J2ee,Adroid,IPhone,Mobile Web pages,Microsoft Certifications,Oracle Certifications.
Like us on Facebook