Selenium Training Institute In Jaipur
Institute Opening Time : Weekdays : MONDAY to FRIDAY 8:00 AM TO 7:00 PM , Weekends : SAT - SUN 10:00 AM TO 2:00PM
ABOUT SELENIUM
We are providing you an opportunity to learn the automation framework that is selenium. This is a self-acting program that helps in the reduction of work and allows you to multitask. For practical knowledge, we will be providing projects to make your fundamentals more clear. The basics of javascript are covered under this course. After the completion of the training, you can make testing tools by using a variety of other programming languages with this programming course. Generally, it is used where the workload of checking and filling the documents is excessive so to initiate the fast working companies use such type of programming languages.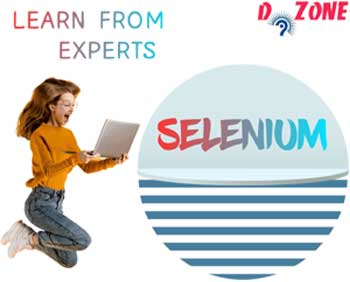 Course outline
This course will provide you with expert knowledge of selenium programming. You will be able to create testing tools as per the companies' demand and give a pace to your career. Being an expert in this particular field you can avail a high salary package and a promising future with increased experience.
Trainer Profile
Our Trainer has huge experience of IT Industry Software/Application Development, they respect the ideas and curiosity of students and support them to implement their code.
Trainer name : Hemant Saxena
Qualification : B.E.
Experience : 23 years in IT Field
Provide In-depth Practical Exposure
Expert in his subject
Course Vital
Request To Contact
Moderate Fee Structure
Isn't it sound great to you people that now you can get selenium training at such affordable prices. It is a great opportunity for those who want to learn but hesitate because of the extremely high fee structure.
Provide Personalized Mentoring And Support
The educator here will always look out for you and make sure to clear all your queries and provide optimum solutions to your problem. We assure you to provide quality knowledge. The focus point of the course is the practical portion where the most concentration is required by both teacher and the student.
What You Get From This Training
The learner becomes job-ready after completion of their project and skill assessment tests.
Get proper knowledge of fundamentals
Get certificate on the completion of training
Able to build automation testing tools testing
Able to reduce your workload with selenium automation programming.
Increase knowledge of learner by using a variety of languages
This programming language helps you build your resume as per the demanding future need.
what our learner think of us
Selenium Training Institute
basement,259
head office at 258,katewa nagar,jaipur,Rajasthan
Ph: 9829708506 , 0141-4108506 , 08432830240, 8432706556
09829708506 , 08432830240